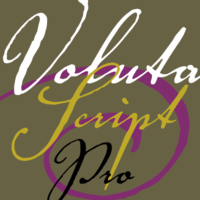 Voluta Script font (Adobe Type Library). Click on the font picture to buy the font.
Austrian designer Viktor Solt-Bittner created the 1998 Adobe Original typeface, Voluta Script, for use in a guide to the Austrian Gallery at Castle Belvedere.
A volute (Latin "voluta") is a spiral or scroll-shaped ornament used in the Baroque architecture of Castle Belvedere, similar to the swashes in this typeface. The castle was the historic residence of Prince Eugene of Savoy, one of the great military commanders of the 18th century and a prominent figure in Austrian history. When asked to create a typeface based on the calligraphy of the period to illustrate Eugene's epic, Solt-Bittner turned for inspiration to Kurrent writing, a cursive blackletter style. Solt-Bittner created a hybrid style that embodies the rhythm and basic forms of its ancestors with large capitals, dark vertical strokes, and flourished beginning and ending characters.
Voluta Script allows designers to evoke the Baroque era or to lend a hint of majestic grace to contemporary typesetting. U.S. Patents Design 413,620; 424,607.