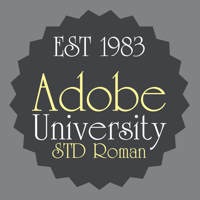 University font (Adobe Type Library). Click on the font picture to buy the font.
University Roman is based on Speedball hand-lettering. Designed at the Letraset Type Studio in 1983, University Roman is notable for its narrow capitals with crossbars that sit well above the median line.
This unique roman design evokes a romantic air in display work such as packaging and advertising.