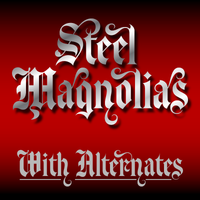 Steel Magnolias family (BA Graphics library) contains 3 fonts.
A beautiful and unique new Blackletter font with many alternate characters and Ligatures.
Mix and match characters to create one-of-a-kind designs. There is no limitations to how it can be used. This new font works for so many applications from Heavymetal to Christmas designs.
The font was designed so that you can have that custom look by simply choosing from the many alternates and ligatures and combining them with the basic font.
Please see the Gallery Images for just some of its many uses.