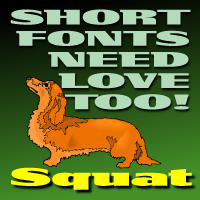 Squat font (BA Graphics library). Click on the font picture to buy the font.
Squat may be vertically challenged but hey, even the vertically challenged need love too!
And you know what? Squat is worth much more than Diddley Squat! It gets the tough jobs done
in half the vertical space with its sturdy, low profile.
Randy Newman may not care for it, but Squat shows that short fonts got plenty of reason to live! So there.