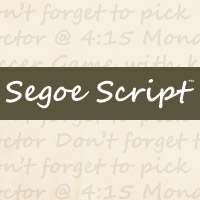 Segoe Script family (Ascender Foundry) contains 2 fonts.
Segoe Script is part of the Segoe of fonts from Microsoft. The Segoe Script (2 fonts) contains stylish handwriting script fonts. The letterforms in Segoe Script feature extended strokes established in cursive handwriting.
Segoe Script font character set: character set: Latin-1, WGL Pan-European (Eastern Europe, Cyrillic, Greek and Turkish).