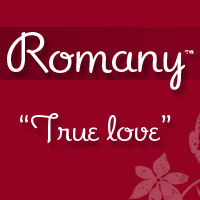 Romany font (Ascender Foundry). Click on the font picture to buy the font.
The Romany font is an non-connecting script which was originally designed by A.R. Bosco and released by American Type Founders in 1934.
Romany is particularly useful for a Valentines greeting but is equally at home with spring blooms or an art deco themed New Year. Revitalized by Ascender's Terrance Weinzierl, Romany brings a touch of informal class to headlines, cards, invitations and thank you cards.
Character Set: Latin 1.