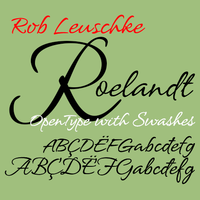 Roelandt BT font (Bitstream library). Click on the font picture to buy the font.
Roelandt BT is another beautiful script font drawn by calligrapher Rob Leuschke.
Perfect for informal invitations and documents, the standard semi-connecting glyphs are simple, yet elegant.
An OpenType font, Roelandt also contains a set of Swash characters. Using the OT Swash feature to access these alternate glyphs, you can quickly transform your text into a stylish and more formal presentation complete with generously sized uppercase swashes. Basic and alternative glyphs in the font support Central Europe.