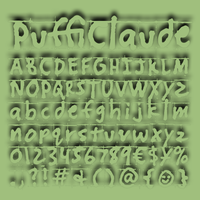 PuffiClaude BT font (Bitstream library). Click on the font picture to buy the font.
PuffiClaude by Matt Desmond is a real piece of work.
Great for funky display stuff, its got some jive junk hanging around every character.
This OpenType font has many goodies including extra ligatures, superiors and inferiors, unlimited fractions, and a hip little smiley face.
Hey, maybe it's a portrait of Claude! There are so many funky glyphs that it even supports Central European languages.
Man, that's hip! Hook up.