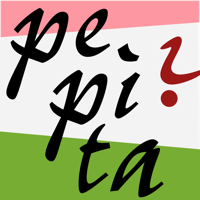 Pepita MT font (Adobe Type Library). Click on the font picture to buy the font.
Drawn for Monotype by the Hungarian designer Imre Reiner in 1959, Pepita interprets the flair of the artist's brush into a dazzling cursive typeface.
Irregular alignment coupled with a moderate variation in stress endows Pepita with a definite swing. Use Pepita for display in advertising, brochures, books, or anywhere ideas need to be presented with verve.