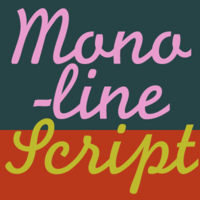 Monoline Script MT font (Adobe Type Library). Click on the font picture to buy the font.
Monoline Script was designed for the Monotype Corporation in 1933.
A medium-weight script, it has lowercase letters that are very close together and a profusion of loops in the ascenders. The capitals are very informal and also have loops and curlicues that give Monoline Script a cheerful look.
Monoline Script can be used for announcements, invitations, and other informal work.