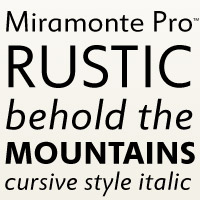 Miramonte Pro family (Ascender Foundry) contains 4 fonts.
Miramonte Pro was designed by Steve Matteson in 2006 as a friendly sans serif design suitable for user-interface design, corporate branding and publishing.
The name means 'behold the mountains' in Spanish, suggesting the rustic, unrefined type design.
Miramonte is based on Stanislav Marso's humanist sans serif released by Grafotechna in 1960.
This revival includes a cursive style italic rather than a sloped roman. Miramonte Pro includes an extensive character set for publishing Central and Eastern European languages. Its OpenType features include proportional figures, and tabular figures.