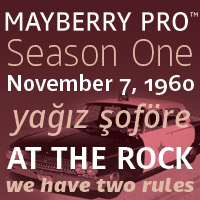 Mayberry Pro family (Ascender Foundry) contains 14 fonts.
Mayberry Pro is an part of an extensive set of 14 OpenType fonts from Ascender Corp. Mayberry Pro was designed by Steve Matteson for use in set top TV devices, User Interfaces, Web Pages and documents designed for presentation on screen and in print.
The Mayberry Pro font has true italics and a wide range of weights to provide the highest quality and legibility on low resolution devices, while also featuring a range of OpenType features that will appeal to creative professionals.
The Mayberry Pro Font is a slightly reduced humanist sans serif which allows for more legible text in a narrower column. Open counters and upright stress help keep the design of Mayberry Pro legible at low resolutions. A significant amount of care has been given to design subtleties allowing the design to function well at large sizes.
The Mayberry Pro character set supports Central and Eastern European, Turkish and Baltic. Mayberry Pro also includes a slashed zero for use where absolute distinction between 'O' and zero is a concern. Also included are typographic features such as old style figures, fractions, superior and inferior numbers for use with applications that provide advanced OpenType typographic support. A set of closed captioning symbols and arrows add to the font's flexibility in interface design.