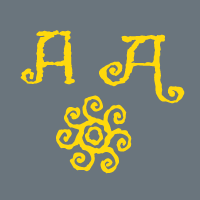 MVB Greymantle family (Adobe Type Library) contains 3 fonts.
Make some magic. Cast a spell with your words. Named after designer Kanna Aoki's 18-pound Maine Coon cat - who appears among a castle, elfin shoes, and other fanciful illustrations in the Ornaments font - Greymantle was created to be whimsical, fantastic and fun.
With playful, scratchy strokes and curling, questioning tails, Greymantle both enchants and suggests you beware. It was digitized by Mark van Bronkhorst and released by MvB Design in 1993.
Since then it has cropped up unexpectedly, including on some very effective children's book covers.