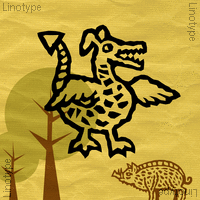 Lubok font (Linotype library). Click on the font picture to buy the font.
Moscow-based designer Julia Borisovna Balasheva created her Lubok face as a pictogram-based font.
The term "lubok" refers to a popular style of Russian folk art printing, which dates back to the 18th Century. In Lubok, Bakasheva has digitised several whimsical characters and animals, which were common in these prints.
She suggests that you use Lubok's symbols to illustrate fairy tales; we suggest that you use Lubok to decorate everything: from your next office party invitation to comic books of your own design!