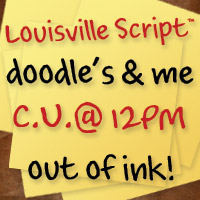 Louisville Script font (Ascender Foundry). Click on the font picture to buy the font.
Louisville Script is an informal script font based loosely on the handwriting of its designer, Steve Matteson.
It was named for the town of Louisville, Colorado (pronounced "Lewis-ville"). Louisville Script is a youthful, casual handwriting script font. It is ideal for casual correspondence including cards, scrapbooks, menus and flyers.
Louisville Script is also great for educational materials including the school newsletter or yearbook!