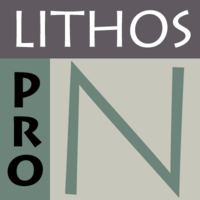 Lithos family (Adobe Type Library) contains 5 fonts.
Inscriptions honoring public figures or dedicating temples were intended for public viewing in ancient Greece. Geometric letterforms, free of adornment, were chiseled into the stone. These very basic shapes are the inspiration for Lithos Pro, an Adobe Originals typeface designed by Carol Twombly.
This flexible design combines simplified character shapes with a playful asymmetric quality that works well for a large variety of display jobs.
The original Lithos design has been extremely popular since its 1989 release. To meet user demand, Lithos Pro, released in 2000, adds true Greek language support, plus small caps and small figures.