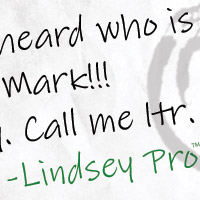 Lindsey Pro family (Ascender Foundry) contains 2 fonts.
Lindsey Pro is a new handwriting style font with advanced OpenType features including alternative characters and ligatures.
Lindsey Pro was created by Steve Matteson based on a teenager's handwriting. It is a casual typeface design with irregular alignments and occasional connections.
Lindsey is a fun font to use in a wide range of documents, from Valentine's Day cards to invitations, memos, greeting cards, signs and correspondence. Lindsey Pro was developed to take advantage of the rich typographic OpenType features of applications Adobe Creative Suite, QuarkXPress 7, and Microsoft Expression.