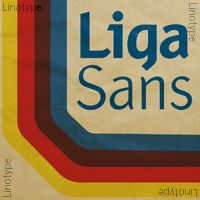 Liga Sans family (Linotype library) contains 4 fonts.
The German designer Alexander Dosiehn developed the Liga Sans type family as part of his graduate thesis at the Fachhochschule Düsseldorf in 2001.
Liga Sans is a sans serif typeface that acts as a bridge between classical modern styles. Traces of pen forms and brush strokes can be seen mixed together with the most legible elements from grotesk-style faces in the alphabet's letterforms. These features work together to create a style that works very in many sizes, including smaller ones!
Liga Sans is an original, lively addition to the porfolio from Linotype suitable for text, magazines, and corporate identity work.