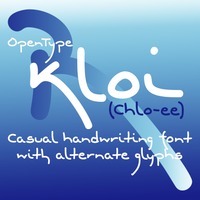 Kloi BT font (Bitstream library). Click on the font picture to buy the font.
Boris Mahovac has adapted a friend's handwriting in this new font called Kloi (pronounced Chlo – ee). It has a very casual feel and includes alternative swash glyphs of some key characters as well as some extra ligatures. Taking advantage of the ligature and contextual swash features in OpenType, the alternate glyphs automatically replace the standard glyphs when appropriate, creating a very unique look.
Available in PostScript OpenType format, Kloi's extended glyph set covers the Western and Central European, Baltic and Turkish languages.