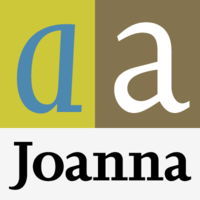 Joanna MT family (Adobe Type Library) contains 7 fonts.
Joanna was designed by Eric Gill in 1930, based on type originally cut by Granjon, and released by the Monotype Corporation in 1937.
He created the typeface for the printing firm of Hague & Gill, which he formed to give his idle son-in-law an occupation, and named the design for his daughter. Only the Caslon foundry cut it for hand composition.
It is, as Gill himself described it, "a book face free from all fancy business," with small, straight serifs and a spare elegance that makes it notably attractive and distinguished.