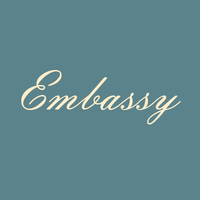 Embassy font (Bitstream library). Click on the font picture to buy the font.
The English roundhand has always occupied the central position in the group of faces appropriate to the social printing handled by engravers, and their contemporary imitators, thermographers.
At the end of the nineteenth century when engraving was mechanised by the pantographic engraving machine, the traditional roundhands found their way onto pantographic pattern plates.
Embassy is a traditional roundhand of vigorous contrast with straightforward capitals with ball terminals; it was transferred from such an engravers' pattern plate to the Fotosetter at Intertype about 1955. Alphatype's Yorktown is similar, but appears to have less contrast.