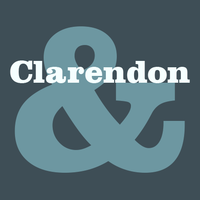 Clarendon family (Bitstream library) contains 7 fonts.
The classical Clarendon form originating in England in 1845 as polished by Edouard Hoffmann and Hermann Eidenbenz at Haas a little over a century later. Haas' revival of this typeface in 1953 precipitated the revivals that follow.
The new, enhanced version of Clarendon BT is now available. Clarendon Pro features over 450 glyps covering with expanded language support and OpenType typographic features.