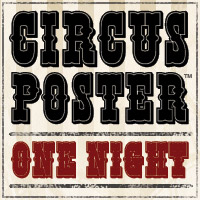 Circus Poster Shadow font (Ascender Foundry). Click on the font picture to buy the font.
Circus Poster Shadow was created by Tom Rickner as a tribute to the classic Tuscan Egyptian forms used in many wood types of the 1890s.
It captures the spirit of the wild west, amusement parks and ciruses.
The details of Circus Poster Shadow are best reproduced at larger, display sizes.