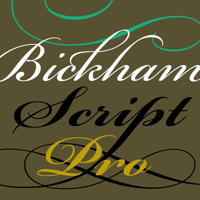 Bickham Script Pro family (Adobe Type Library) contains 3 fonts.
Richard Lipton's Bickham Script is a flowing, formal script typeface based on the lettering of 18th century writing masters, as rendered in the unparalleled engravings of George Bickham. This ornate script lends a signature flourish to invitations, menus, annual reports, restaurant logos, and packaging. With dozens of alternate letterforms in addition to its range of weights, Bickham Script's personality can range from poised to extravagant.
It is intended primarily for display settings.
U.S. Patent Designs 407,108 and 426,570.