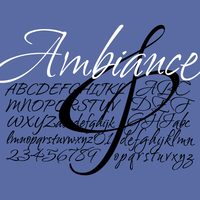 Ambiance BT font (Bitstream library). Click on the font picture to buy the font.
The beautiful calligraphic typeface Ambiance comes from master designer Rob Leuschke.
The complete array of characters includes a swash alternate for each upper and lowercase letter. Called contextual alternates in OpenType, the swash characters are automatically substituted in the appropriate context when you select them.