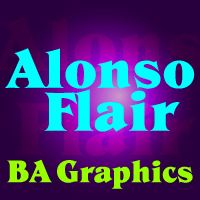 Alonso Flair font (BA Graphics library). Click on the font picture to buy the font.
This font, as indicated by its namesake, was designed and started by the late Bob Alonso. It represents the first of his unfinished work to be completed by friend and colleague John Bomparte, following Bob's passing in December of 2007.
It is a font that speaks with a distinctively robust voice; and would be a great choice for a wide variety of uses.
Central European languages are supported through OpenType, and Windows/Mac OSX TrueType versions.